"When you go on the internet, please pray for the Hoffman Family – your missionaries to Cyberspace."

Volume 34 Issue 3 (May/June 2022)
Greetings in the name of our Lord and Savior Jesus Christ!
The Latest News:

• We have a new ministry "uniform" The custom embroidery was provided by Glen Yeager of Its4Him.org.
• Bob was asked by Pastor Gilbert Fernandez to present our ministry and preach the morning service at Autonomous Baptist Church in Terrell Texas on Sunday 05/22/22.
---
Church Website Ministry:
• I met church planter James Downs at a missions conference in Fort Worth back in March. We talked a little and he told me that he was planting a church in the Washington D.C. area and would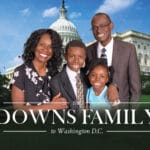 be contacting me. I received a call from Brother James in early May, we discussed his needs. He is planting churches around the D.C. area to reach the general population, and specifically as an outreach to the Ethiopian population. Brother Downs wanted to set up a website for his Church Planting ministry. We talked things over and Brother James decided on the domain dc4christ.com. I set up a WordPress website for James and put up content that he supplied. Brother James is still praying about the content he would like on his front page, but he is very happy with the website.
• After I set up the website for James Downs, he wanted to set up a website for his church plant "Open Door Baptist Church" in Silver Spring Maryland. I registered the domain name odbcdc.com for their website and installed WordPress for him. Brother James provided a Statement of Faith and some information on the church, and the website was going.
• I was contacted by Sister Faith Anne Harris of Temple Baptist Church in Three Rivers Michigan. Her husband, Michael Harris became pastor of Temple Baptist Church. We have been hosting the website (templebaptisttr.org) since 2006! Mrs. Harris had some questions about WordPress. Sister Harris and I discussed several things and the subject of email came up, as they were having some problems with their current gmail accounts and spam filtering. I suggested they could set up email in their own domain, and Sister Faith noted she wished she could do away with the current domain with something shorter. After some discussion, she decided that the domain templetr.com would work. We came up with a plan. I registered the new domain, and pointed WordPress to it. The old domain is now pointing to the new domain. We will keep the old domain until October of 2023, to give the new domain time to propagate, and then let the old domain expire. I set up two email addresses using the new domain, one for Pastor Mike, and one for Sister Faith.
---
Bible Correspondence Courses:
Here are some comments we received from people that are taking the correspondence courses:
• A prisoner in Texas writes: First I thank y'all for having the desire to do God's will in sharing the Good News. Doing these lessons give me more me time in God's presence, to be more spiritual in the things of God. Every lesson that I do is a recharge to keep me leveled in the things of God. I am truly blessed even though I might be in chains. But God sees I lack nothing. Again, keep having the desire to do God's will. Amen.
---
Tract Ministry: We have "given out" over 147,000 Bible Tracts online.
---
Social Networking Outreach:
• Facebook – 3.1K Friends (Facebook no longer showing exact numbers)
• Mewe – 8.4K Friends (Max friends Mewe shows. Way above this number)
• Spreely – 2526 Friends
• USA.life – 6829 Friends
---
Support: We are currently at 70% of support for our ministry expenses.
---
Prayer Needs:
• Would you consider praying for us when special needs arise? If so, please subscribe to our prayer warrior's mailing list.: http://eepurl.com/SYbI9.
---
Specific Financial Needs:
• Our advertising program costs $150 per month. We have offered tracts to over 3 million people in 7 languages over the last 2 years!
• Postage Costs are averaging $130 per month to mail out Bible lessons.
---
Please consider a donation. FamilyNet is a 501 (C)(3) charity. Donations are tax deductible in the US – You can donate via PayPal (Donate button is on https://cyber-missions.org) or mail a check:
FamilyNet International Inc
P.O. Box 451951
Garland, TX 75045
(214) 257-0229
In Jesus' Service,
Bob and Maureen
Phil 1:3