Watu Wote joins other films attempting what African sermons cannot.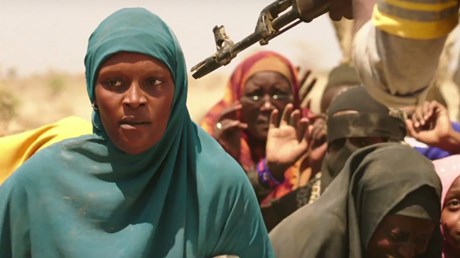 Two years ago, the heroic actions of some Kenyan Muslims brought their majority-Christian nation together. The Oscar-nominated film depiction of that heroism may do so again—if many people watch.Watu Wote is a fictional retelling of real-life horror. In December 2015, al-Shabaab terrorists stormed a bus headed toward the border with Somalia and demanded Christian passengers separate for targeted execution. Muslim passengers responded, "If you want to kill us, then kill us. There are no Christians here." The Christian women were given hijabs to wear, while the Christian men were hidden behind bags.They knew the danger. One year earlier in a similar bus attack, Muslim militants killed 28 Christians who failed to correctly say the Islamic creed.Filmed on location in Swahili and Somali, the 22-minute film was nominated for the Live Action Short Film category at the 90th Academy Awards."The film captures an issue close to Kenyan hearts, that apart from religious differences, we are all Kenyan," said Timothy Ranji, bishop of the Anglican diocese of Mt. Kenya South. "The downside is that it will be watched by very few Kenyans."Access to film is limited in Kenya. The nation ranks 77th worldwide in terms of cinemas per capita, according to UN data. Radio is a far more effective means of communication in the East African nation, Ranji said.And some, like William Black, may choose not to watch it. "The movie tells a good story, I'm sure," said the American Orthodox missionary and professor at St. Paul's University in Limuru, Kenya. "But it hits too close to home."Black believes that terrorists want to push Kenya to the tipping point. "The narrow focus ...Continue reading...
When the ground beneath a marriage is shaken, can it hold up?mpaa rating:R (For language and brief sexuality.)Genre:DramaDirected By: Andrew HaighRun Time: 1 hour 31 minutes Cast: Charlotte Rampling, Tom Courtenay, Geraldine James, Dolly WellsTheatre Release:August 28, 2015 by Sundance SelectsMuch about 45 Years makes it clear that it's adapted from a short story, but nothing more than the moment when Kate (Charlotte Rampling) is surveying the hall in which she intends to host her 45th wedding anniversary party at the end of the week. "So full of history, you see?" says the man showing her the room, which after the English fashion is old and stately. "Like a good marriage." That line is a cipher for the story, the thread you tug and hold your breath to see if the whole thing will unravel.Kate and her husband Geoff (Tom Courtenay) are just on the cusp of old age, retired but well-off and childless and still very fond of one another. The film takes place over the week leading up to their anniversary celebration, and it's filled with the quiet shorthand that long-married couples use with one another, with a constant classical music backdrop. For much of the film, director Andrew Haight contrasts very wide shots of the fields and landscapes around Kate and Geoff's house with beautifully-lit interior shots, often through doorframes, in nearly every room of the house. It's as if we're seeing everywhere they've invested with their lives before the storm hits.And hit it does, though you might almost miss it if you aren't paying attention to their faces. Geoff receives a letter one morning that, despite his rusty German, he realizes carries startling news: in Switzerland, buried beneath ice, his former girlfriend Katya—who fell and disappeared before he even met Kate—has been found. Katya and Geoff had been pretending to be married to make travel easier, so he's listed as her next of kin. Would he be able to come identify the body? ...Continue reading...
The HRP-4C female robot hits the runway at the Osaka fashion show.

Many homeschoolers have expressed unusual weariness at the end of this year, feeling like we've run into the proverbial brick wall.
OK, so my kids have no idea who any on the hottest Hollywood celebrities or pop stars are... no clue.  Ask them and they will just stare at you like you are dumb.  (I've got to work on their manners!) As homeschoolers we get to pick and choose who we want to admire and why.  The media cannot force feed us or our children because we abstain from their influence altogether.  No cable television, no satellite, and only rabbit ears on rare occasions (like when we got a direct hit from Tropical Storm Fey). So on December 7th, we can look at the lives of real people who made a difference... like those brave men who did their duty for family, liberty, and country on December 7, 1941.  Brave men like Cassin Young: CASSIN YOUNG Congressional Medal of Honor Rank and organization: Commander, U.S. Navy. Place and date: Pearl Harbor, 7 December 1941. Born: 6 March 1894, Washington, D.C. Appointed from: Wisconsin. Other Navy award: Navy Cross. "Comdr. Young proceeded to the bridge and later took personal command of the 3-inch antiaircraft gun. When blown overboard by the blast of the forward magazine explosion of the U.S.S. Arizona, to which the U.S.S. Vestal was moored, he swam back to his ship. The entire forward part of the U.S.S. Arizona was a blazing inferno with oil afire on the water between the 2 ships; as a result of several bomb hits, the U.S.S. Vestal was afire in several places, was settling and taking on a list. Despite severe enemy bombing and strafing at the time, and his shocking experience of having been blown overboard, Comdr. Young, with extreme coolness and calmness, moved his ship to an anchorage distant from the U.S.S. Arizona, and subsequently beached the U.S.S. Vestal upon determining that such action was required to save his ship."
  U.S.S. Vestal If you are considering homeschooling, consider turning off your TV and reading to your children starting now.  You can read about more of these brave heroes here and here.